I was finally able to find a little time this weekend to make another puzzle! I really do enjoy this and I think I've found a hobby that may hold my interests for awhile.
Anyway, here is the new puzzle, a simple nativity scene: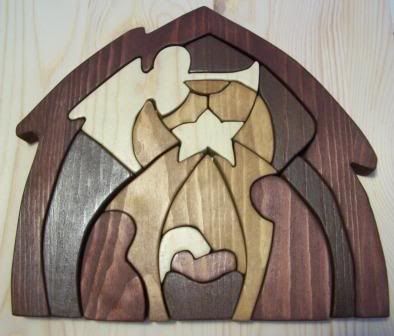 If I were to do it over there are a few things I would do differently, though overall  I  like it very much. I used pine this time as a step up in quality from the plywood of my last puzzle, yet still not risking anything too pricey with my beginning saw skills.
In case anyone is interested, here is the step-by-step process, so you can see how easy it really is.
First, I sketch out (and re-sketch, and sketch some more…) a design on paper, making sure that there are no pieces that might be too small and complicated to cut. Here is my original design, which ended up changed a bit in the final piece:
Then I trace it onto a piece of wood.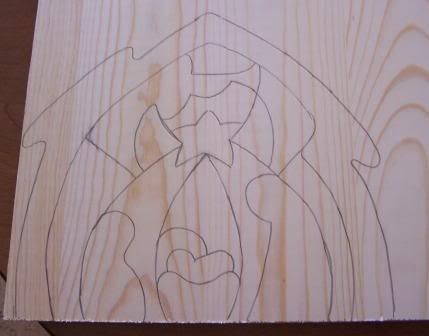 Then I cut it out using a scroll saw. Please ignore all the boo-boos I am still learning how to drive that thing! At this point it isn't looking too pretty.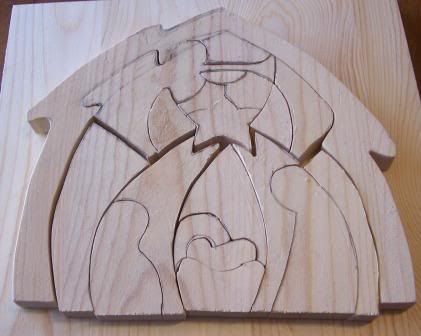 Then comes the most labor-intensive part, sanding.
I think it makes a huge difference!
Then comes the staining.
I use only water-based stains and finishes. Easy clean-up and less toxic. Then I put a light clear top-coat on to seal it.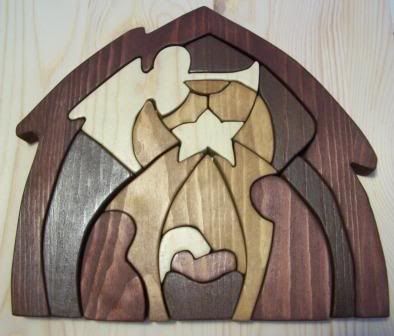 The final product, again. I also designed it so that the main pieces can be set up as a simple nativity scene.
So, you see! It is really simple to do and very rewarding. If you think you can't do it, you really should think again!I have much to learn, but I look forward to getting better and better at it with practice. That's two puzzles down now and a lifetime to go!LOL!
45 Responses to "Simple home-made Nativity puzzle"
That is a gorgeous puzzle! And I love that it can stand up too. Very cool. I think your saw skills are excellent. I will bet the professional stuff looks all that good before sanding either. Sanding is the key!




Gorgeous, Theresa! Simply beautiful! If you sell them I'll be first in line!




Truly inspirational!




Oh Theresa, it's amazing!! What a gift you have, I'd buy one if you made them for sale Just a thought, hugs!




BRAVO!! BRAVO!!




I am impressed! How gorgeous, and a fabulous hobby. Be prepared to be invited to every party and shower around in hopes that the gift will be one of your puzzles!




So by my count, I am third in line to buy one and I am totally serious! It is gorgeous!!!!!! Tell me when you start taking orders!




on 17 Dec 2007 at 5:31 pm

8

Kacky

Meredith is right Theresa…you really could sell these…I'm picturing you at homeschool conferences with your own vendor booth!!! Beautiful!!!




These are awesome, seriously. You are a true artist.




I'm so impressed! Thanks for the instructions. I really want to learn how to do this.




on 17 Dec 2007 at 7:08 pm

11

Shannon

Would that make me 4th in line??? Well, I want 2 Please:).
Just lovely!




Your puzzles are just gorgeous, Theresa. My husband and dd were also very impressed. It looks just as good as anything you'd see in a catalog!!




This is simply beautiful!!!!




That is awesome Theresa!!! You are such a gifted woman.




That is absolutely incredible! I collect nativities and something like that would make such a nice addition to my collection. I wonder if I could convince my mom or dad to make one for me?




i'd love to buy one too if you sell them. i would love to have one in my home. please let me know if you decide to sell some so we can use them in our homes next year.
IN HIM,
julie




Wow! That is really cool!
Come on, tell me, is there ANYTHING you can't do well?
If I were a kid, I'd definitely want you for my homeschool mom. I hope your kids know what a gem they've got.




Oh, my goodness. That is absolutely gorgeous. WOW!




This is beautiful, Theresa. You are very talented.




Thanks everyone! I am pretty excited about this hobby. I appreciate the support!




Okay, I thought you were going to take a break after working so hard on science the past few weeks. (A break you totally earned, by the way.)

Perhaps such a beautiful hobby is your break…

Well, in any case you are something else. I'm with everyone else in saying that you are one of the coolest homeschooling moms EVER. God bless you, Hon. You're a true inspiration.




Boo-boos? What boo-boos? You're amazing. You are incredible.




That is so beautiful! Great job on a new hobby and skill! Can't believe how amazing your puzzles are… and these are just your first two!!! I, too, think you're an amazing homeschool mom & teacher & thank you for sharing your talents with us! And, for inspiring us all to branch out a little and try something new!




that is beautiful! I'm so impressed. I've always wanted a scroll saw; It would be such an improvement over the circular saw for accuracy!




Wow! That is just so beautiful! It is amazing that you designed that all yourself. It looks like a wonderful hobby!




Wow, this is a gorgeous puzzle. I love the form and the stain color!

Have you thought about setting up shop on Etsy?




Oh that is so lovely. i would love to buy one too Maybe i'll have to convince my husband to make me one.

blessings!




on 05 Oct 2008 at 8:00 pm

28

Amy G.

I love what you have made! Can the whole thing stand on it's own, or only what you showed standing?




Hmmm…Let me think about that. It's currently packed away with the Christmas decorations or I'd check for you. I do think that if you put it all together it would stand up as a whole, but I don't think it would be terribly sturdy. It would not be hard to make a little stand for it though. Perhaps a board with a groove for the bottom edge to fit into.




on 07 Oct 2008 at 8:08 pm

30

Amy G.

Okay, you've inspired me. I just went and bought a scroll saw! I've done other woodworking, just nothing this intricate. Is there a book you recommend or is your plan for the nativity downloadable (please,please, please)?




Amy, I wish I could help you, but i just kind of winged it–as is my usual mode of operation!LOL! I am sure there are books out there, but I did not use any. And my pattern was just sketched out on some printer paper and then I tossed it when I was done. Sorry I am such a slacker, but have fun with your new scroll saw!I'm sure you'll make lots of cool stuff. Be sure to share it with me when you do, I'd love to see it!
Oh, and in case you missed it, here is the first puzzle I did:
http://lapazfarm.homeschooljournal.net/2007/12/03/a-home-made-gift-my-first-puzzle/




on 30 Nov 2008 at 11:25 pm

32

san

Really very very nice…keep up the good work ) San




Thanks so much for the wonderful idea! I hope you don't mind that I copied it and gave it to my sister-in-law for Christmas. The pattern wasn't too difficult to cut, and it turned out really cute.

Oh, and thanks for the idea about water-based stains. SO much easier!




Wonderful, Nadine! I'm so glad you were able to use the idea!




Amazing looking puzzle!

I have loads of wooden puzzles that I have accumulated (and display) in my flat, and I would definitley display this one too!

As everyone else has said you have some great skills!




on 08 Dec 2009 at 3:43 pm

36

Taresa Neale

this is beautiful. I happened upon it asI'm making a compilation of nativity scenes for an art study for Christmas for our homeschool. I don't know your name, but I'll put a fellow homeschooler/mom? as the artist. so far I have the chartres cathedral stained glass, a flemish painting and this. I'm showing how art can be expressed in many different ways to show the same idea.




Thanks, Taresa!




on 01 Nov 2010 at 10:23 pm

38

Ana Maria

Your puzzle is lovely! My husband was excited when I asked if he would help/guide me in making one like yours. I'm proud to say my puzzle was so fun to make and turned out fairly nice. Thank you for the inspiration and God bless!




This is beautiful, and the fact that you designed it to be able to stand as its own nativity scene too outside of puzzle form is great! I found you through Catholic Icing today, which is why I'm late to this conversation.




I found your AMAZING puzzle while searching for a fun wooden nativity. I was able to use your pattern and simplify it for my lower skill level and I love it!! Would you mind if I blogged about it? I would of course give credit where credit is due Yours it awesome!




Sure, Rachel. I'm glad you were able to use it!




on 14 Dec 2011 at 4:44 pm

42

Lee

I do scroll saw work & my sister-in-law wants me to make on of these for her and possibly sell some. Would you mind if I were to use your pattern for this purpose? it is a wonderful idea and pattern.




Go for it!




on 21 Dec 2011 at 8:16 pm

44

bobby

I am also a scroller and would love to cut this out. ow can I get a copy of your puzzle.




Well, Bobby, I don't have a copy of the pattern since I made it so long ago. I think you'll just have to wing it! Good luck to you!