Oh, my goodness. If you ever get the opportunity to visit Badlands National Park, JUST DO IT!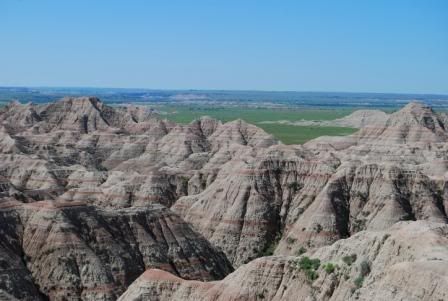 What a spectacular place! We had so much fun exploring the features here…caves, bluffs, peaks, arches and canyons. All just beautiful, and so VERY different from home!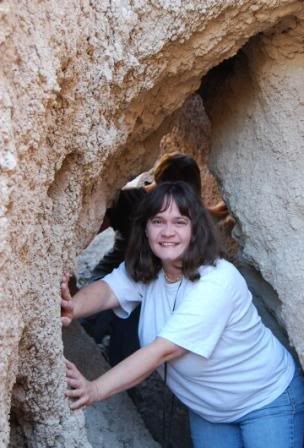 Yes, that's me again! Wow, my own face on my own blog twice in one week! Must be a record!LOL! Well, with dh here to share some of the picture-taking duties, I hope to show up here more often from now on!LOL!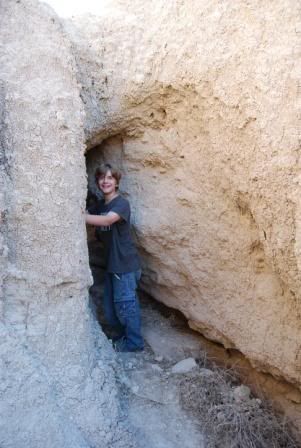 Superboy was truly in his element, exploring this place from bottom…
…to TOP!!!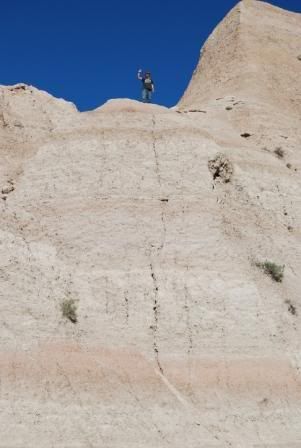 Of course JBug wants nothing more than to be just like her big brother, so she did some climbing of her own. Brave girl!
And the sunset???Oh, MY!!!!
A glorious time was had by all. We do so hope to get back to the Badlands again some day!
Next up:Mt Rushmore and …a bit of a snag. 
16 Responses to "Badlands"
on 24 Jun 2008 at 6:18 am

1

Angela, MotherCrone

Breathtaking! What an amazing stop on your journey to your new home (still can't quite get over how lucky you are there!!!)

Thanks for sharing!




Stunning! I'm really enjoying these "snapshots" of your journey.




Love all the pictures, but especially the last one of Superboy and JBug. Being six years younger than my only brother, that picture is a familiar one, facial expressions and all! LOL




Never been there… very cool. Thanks for taking the time to post.

jen




Beautiful photos! We LOVE the Badlands!!!




Those pics are gorgeous! The last one's a keeper … going up on the fridge!




I agree with Karen, the last photo is wonderful.

I kept meaning to email you but haven't and now you're probably on the road again and won't check for a while. If you need a place to take a rest, shower, or pitch a tent, you are welcome to visit us in Bellevue, WA. It is right before Seattle. It would be so awesome to make dinner for you and your family.




Wonderful photos. Look at that smile that you have on your face. I love it!You look like you are having a wonderful time. That sunset picture is amazing. Thanks so much for sharing all of this with us.




Too cool!!! Safe journeys )




Spectacular!




Wow…great photos…can't wait to see more! Hope you'll get a chance to see some bison on your way through the west. Prayers for safe travel coming your way.




What great pictures! It looks like you are having a blast. One of my dreams is to win the lottery and buy an RV and go from one side of the country to another.

Stay safe.




I'm green and we're not sailing so it's not seasickness…I must be jealous!




Travel safe!




I will so go if we have the chance! WOW!




That place in incredible. I have to go see it sometime.