The mice will play!
Superboy was off with his scout troop the other day, so JBug and I were busy, busy, busy following her interests.
It all began with a simple question ( prompted by a veggie tales song).
"Mommy, why do I have a belly button?"
(Hmmm. Have we not discussed this yet? Amazing the things we forget to explain after the first few kids!LOL! )
Anyway, after I explained what the belly button is all about, we went off on a fun trail learning about viviparous (live-bearing) versus oviparous (egg laying)  animals. Luckily I had just seen this nifty sort/cut/paste activity from My Montessori Journey and that got us started in a great way: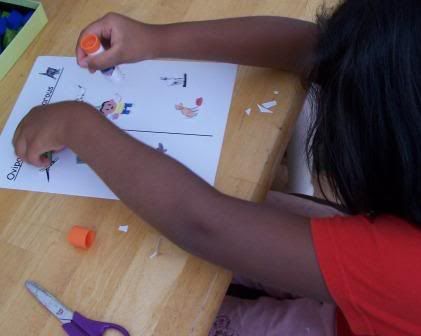 We ended up looking through all of her old My Big Backyard magazines and telling whether each animal in them was viviparous or oviparous.
Then JBug read aloud to me from an easy-reader about birds and I read to her one of our favorites, An Egg is Quiet. The gorgeous illustrations in that book inspired us to get out our watercolors and do a bit of egg painting of our own.
They turned out so pretty! Not sure what we will do with all of these lovely eggs yet, but I have a few ideas.
Then we left the egg theme behind because JBug wanted to play (again) a game I had made for her last week which I call "shape shifters." It is a simple math game which helps with the concept of exchanging: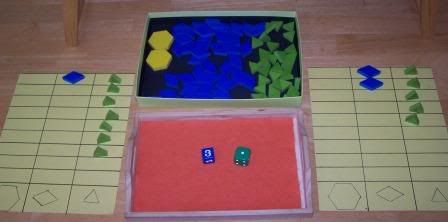 I made up two game boards out of construction paper. You take turns rolling a single die, and put that many of the first shape on the board. When you get ten of that shape you exchange them for one of the second shape. When you get ten of the second shape you exchange for the third shape and win the game. Like I said, simple, simple, and there are a million variations, all based on the "race for 100″ concept. I used pattern blocks, but you could use beans, coins, counters, number tiles, golden beads, etc. We will likely work through all of those variations eventually, (making new game boards for each or using 100 boards) but I wanted to start out with something non-numerical to isolate the "exchanging" concept.
JBug likes the game because due to the random nature of the dice roll, she has just as  much chance of winning as me. And she LOVES to win. Ahem. Enough said.
Then it was time to get outside, so we took off for the beach for the afternoon.
Anyway, that was our lovely day, just us two gals. A nice change of pace.
8 Responses to "When the cat's away…"
Could you elaborate on the "race to 100″ thing? I couldn't find much when I googled it. Is there a book, a website? I am very interested in this concept. Thanks so much!




How I love looking at your beautiful watercolors, Theresa…




Sure, Betsie! Race for 100 is a simple concept where the players take turns rolling a dice or spinning a spinner and adding up the scores until you get to 100. The first one to get to 100 wins. You can either move markers on a 100 board or you can collect beads, beans, or whatever, just so you have a way to keep track of how many you have (hence the home-made gameboards). This game teaches counting, adding, place value and more. It works especially well with golden beads, unit blocks, and coins because that way it also teaches exchanging.
You can also play the game backward where you start at 100 and subtract your dice rolls or spins until you reach zero.
You can also use the Montessori stamp game materials or bead frame (abacus) to play the same game, and another variation is to use the colored bead bars and draw them randomly from a sack instead of rolling dice or using a spinner. Then you can also use a marker or arrows on the 100 chain to keep track of your score.
The nice things about this game are the simplicity and versatility of it. It can be played with any variety of manipulatives to keep it fresh and reinforces so many skills.
Hope that helps!




We love our girl's days out around here! We just don't get them very often.




I've got to get some of those paint pens!

Your eggs (both of you) are beautiful!

Thanks for the mention of the game, too– it sounds fun!




on 04 May 2009 at 5:02 pm

6

Meredith

Love it! I'm stealing your exchanging game idea!




I love the eggs you & your daughter did, too! And, I love your Montessori approach to "viviparous or oviparous." Are you familiar with oviviviparous? It's common in some types of cockroaches. We actually got to see the live birth (the eggs hatch inside of the mother and she carries them around inside of her!) and took some photos: http://alexml.blogspot.com/2006/09/madagascar-hissing-cockroaches.html.
Dana




Your egg paintings are beautiful. That math game is definitely one that I will be trying out with Lindsay. Thanks so much for the idea. Looks like a wonderful day for you and your daughter.