You know,  nature study is the one subject we have done really consistently for many years. It's probably what we do best. Heck, the kids can pick up a field guide and identify an insect or wildflower before they can read. Their nature journals are stuffed full of  bird sketches, tree rubbings, pressed flowers, mushroom spore prints, and notes on seed dispersal, weather, animal tracks, soils and all the many creatures we've discovered together over the years.Nature study is as natural to our family as ball-parks and dance recitals are to other families. It's just *what we do.*
So what do you do when you have a high-school-aged student to whom nature journaling, species identification, collecting and labeling, etc are all just second nature? How do you challenge him to take nature study to the next level?
Well, for one thing, I won't be requiring any nature journaling from him any more. He has moved beyond the need for guidance from me in that area. From now on, his nature journal is his own, and he can journal (or not) as he pleases.
Instead, our time together will be spent looking beyond our own backyard and exploring some of the many larger issues involving nature: the history, the intrigue, the problems and solutions, and the people for whom nature study is more than just a family pastime.
To set us off on that journey, Superboy has quite a fascinating line-up of fascinating nature-related reading material this year, and I'd love to share it with you. In choosing these books I tried to keep a balance between plant and animal related books on a variety of themes. Some natural history, some environmental issues, some just interesting fact-filled explorations. But above all, these books are all highly engaging and thought-provoking literature.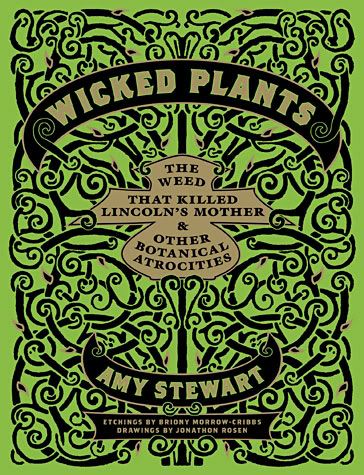 We are kicking it off with Wicked Plants: The Weed That Killed Lincoln's Mother and Other Botanical Atrocities
by Amy Stewart. Oh, my, if this isn't a plant guide that appeals to a teenage boy's heart, I don't know what is! Plants that kill, maim, and irritate, this book has got them all from A to Z. Throw in some nifty historical tidbits and you've got a book that will draw you in like the sweet scent of oleander.
After that comes Fruitless Fall: The Collapse of the Honey Bee and the Coming Agricultural Crisis
by Rowan Jacobsen. What happens when one quarter of all honey bees throughout the northern hemisphere suddenly disappear? This instant classic takes a look at colony collapse syndrome and what it could mean for food production, and plant life in general, in the future.
Next we take little meander into the very basics of nature–the elements, with The Disappearing Spoon: And Other True Tales of Madness, Love, and the History of the World from the Periodic Table of the Elements
. Readable chemistry? You better believe it!
Then it's back to the animal kingdom with Animal Investigators: How the World's First Wildlife Forensics Lab Is Solving Crimes and Saving Endangered Species
Like a CSI of the animal world, this book explores cases of wildlife trafficking and the methods being used to stop it. This book caught my eye in particular because the first case involves illegal slaughter of walrus in Alaska, an issue with local ramifications.
Then plants steal the show again with Flora Mirabilis: How Plants Have Shaped World Knowledge, Health, Wealth, and Beauty (National Geographic)
The pages of this gorgeous book are practically overflowing with stunning illustrations as the text traces the history of botanical knowledge, exploration and discovery  through the ages. Superboy may just have to pry this one from my fingers in order to read it himself. Just gorgeous.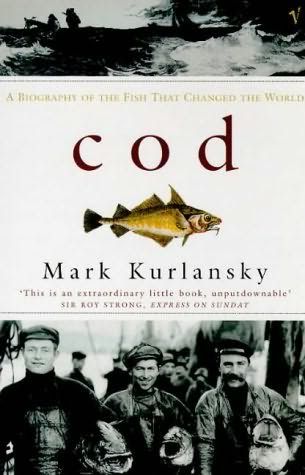 And next up is Cod: A Biography of the Fish That Changed the World
by Mark Kurlansky (author of the popular Salt: A World History
). Who knew the humble Codfish had such an enormous impact throughout history? This book has been making the rounds here amongst the fishermen of Sitka to rave reviews. We have got to see what all the fuss is about, so this book earns a spot on our list.
Last but certainly not least is The Dangerous World of Butterflies: The Startling Subculture of Criminals, Collectors, and Conservationists
by Peter Laufer. I'm telling you, this one has it all. As the back cover states, this book is a " true tale of beauty and obsession, smugglers and scientists, and nature's most enigmatic creature."
And that is all I have planned for now. We may end up adding more to the list, but for now I think it is a great set of books and should provide much food for thought.
21 Responses to "Nature Study: taking it to the next level"
This is a great list! The books sound fascinating… I'll be tracking several of these down for my own enjoyment!




Interesting and unusual books.




I am wishlisting some of the titles for our study. Thanks for the suggestions.

I have tried to do the same ratcheting up of nature study with my boys. We added in the complete John Muir series of books since we live so near his haunts…made for some great commonplace book entries.

Thanks again for the suggestions.




on 01 Aug 2010 at 10:17 am

4

rox

Oh Theresa thanks so much . I'm doing animals with the kids come fall and needed some ideas for wise owl . I'm having him read the my side of the mountain trilogy for fun but needed some more serious study . we'll go into plants & insects come spring time although it is fun come winter to identify trees etc. in the dorment time .
Thanks a bunch




Theresa, I recently read Of a Feather: A Brief History of American Birding by Scott Weidensaul. I really enjoyed it and thought at the time it would be a good addition to an older student's curriculum. The author is an avid birder and the book is an insider's view on the birding community. It's also a good beginner's history of the science of ornithology and really shows the development of bird guides.

I also recently read The Dangerous World of Butterflies– I'd say that though it was a good read, very fascinating stuff, there were a couple of places that I noted parental supervision might be in order for some students. I don't remember the details clearly, just that I had a few reservations about its suitability for younger readers, which I though was a shame since it's such a fascinating topic. There was some rough language (the F word I think was used int he conversations with the couple who ran the South American butterfly ranch) and some sexual content with the passage about the black market butterfly dealer. Just so you know and are prepared.




on 01 Aug 2010 at 1:22 pm

6

Shanda

I loved Mark Kurlansky's Cod. You have to check out his other great book, Salt, which I thought was even better than Cod. Great list.




Oh and I'm adding Cod to my wish list. My husband's grandfather was a fisherman in New England and I think fished out of Alaska at some points. He most likely fished cod at some point. Sounds interesting.

If he likes that, I also found The Secret Life of Lobsters by Trevor Corson to be a fascinating read. It might be a good follow-up.




These all look great T, super list for a Superboy




Thanks, Melanie. I did notice the dicey bits and will be discussing those parts with Superboy.
And I'll have to look at Of a Feather. Sounds very good! The list just grows and grows…




Hi! I just want to say that I love your blog and I have an award for you. Please visit my blog http://raisingian.blogspot.com/2010/08/thank-you-thank-you.html




Thank you, Sandy!




I have passed on the Versatile Blogger Award to you

http://athomescience.blogspot.com/2010/08/versatile-blogger-award.html




Thank you, Kris!




My oldest son just checked that book out from the library. He was very excited about it. I enjoyed catching up with you all.
Blessings,
Dawn




on 06 Aug 2010 at 7:16 pm

15

Angela

You must add Rachel Carson titles…she was so instrumental to the history. Buzz has looked at Green Mountain College, and some of their enviro history coursework lists great books. Her foundation has some great stuff available as well.

I am hoping you still have my email, because I am feeling gifty. I have a LARGe number of nature study books, both classic and new that I will gladly ship you way, inlcuding all the Carson books. Let me know…




emailing you right now, Angela!




Wow you do Do nature journals VERY well. It was nice to look at yours so I can get an idea of what we want to do this year.

I have an 11 yr.old and a 5yr. old. so we will see how it goes. My 11 yr.old HATES to draw.

I am also loving the Montessori links. It makes me want to come be in your school.

Thanks for sharing.

Have Fun!




Fun list! Adding a few to Marianna (and my!) nightstand before school kicks off…




This is such a great idea – using great books to expand Nature Study into Natural History Studies! This is what I have started to do with my 7th-grade boys. We are starting with the Jim Arnosky books. They are currently loving "Secrets of a Wildlife Watcher"! This is more their style of "nature study". To have them go outside every week on a schedule and try to "study" something in nature and record it in a journal is really not their style. The "have to do it every week like a school subject" part does not appeal to them and the "draw in a journal" doesn't appeal to them. But give one the field guides and his binoculars and give the other a camera and take them out on a spontaneous trip or a vacation, and they do great! So, in the meantime, we will use books to expand their ideas and knowledge about nature in between these trips!

I also will have to put the John Muir books that Barb-Harmony Art Mom mentioned on my list! We have actually been to the park and have pictures of our hike. And I am sure we will go again, especially if they get more excited about the man and the park.




what an interesing list! how do you come up with your selections?




Well, I tried to get a variety of subject matter (mixing up plants, animals, etc,) and a variety of writing styles as well. Mostly I tried to find books that I thought would be highly readable and hold his interest, but also make him think about some bigger issues such as conservation, agricultural practices, and ethics issues. So far the selections have met with approval, most especially the Wicked Plants book. He really liked that one.