We are really enjoying our focus on sculpture for art this year. This week's project was a burlap figure sculpture (directions from Dick Blick here) inspired by the works of Polish sculptor Magdalena Abakanowicz. We began by watching a YouTube video about her which explained how her art is strongly influenced by the death of her mother during the Nazi invasion of Poland, the destruction of Warsaw, and subsequent Soviet takeover. Then we looked at some of her work at her website. Very impressive! And we were ready to begin!
First a wire armature is assembled and pinned to a base so it stands upright.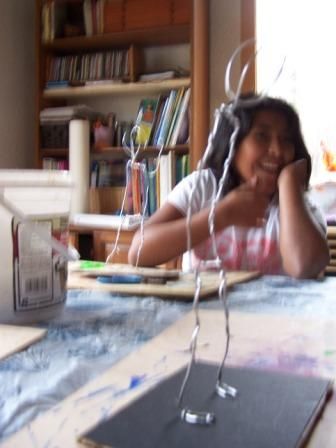 Then the armature is draped with strips of burlap dipped in wallpaper paste, forming a human figure.
Results were very satisfying. Here is Sam's, which I just love: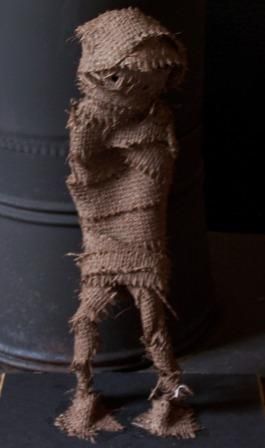 I think it has a haunting, evocative look. This photo does not do it justice.
Mine:

And JBug's: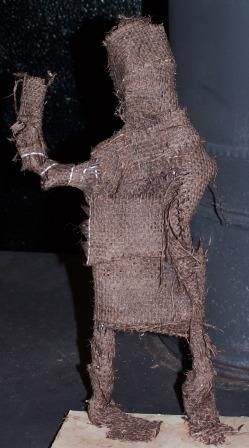 The whole gang: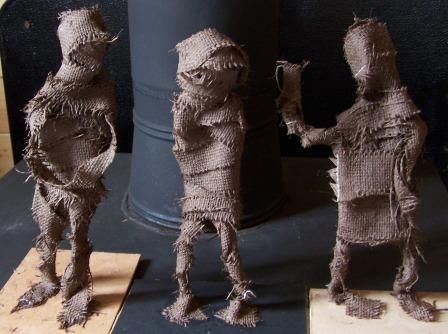 Both Sam and I found the process very enjoyable and loved the results, but JBug got a bit frustrated with hers and didn't enjoy it as much. It was messy and difficult to get the burlap strips to drape just right to cover the wire armature without becoming too heavy and making the whole thing tip over. Restraint is definitely needed. Because of this difficulty I recommend this project for older kids. Plus, if we do it again I think I'd use a larger gauge wire (we used 14 gauge) to make it more stable. Overall, the project was a great success.
How's art going in your neck of the woods?
7 Responses to "Burlap figure sculpture"
OOO burlap looks good. I had heard of this project in Art Fundmentals only it suggests using a flimsy wire hanger from the cleaners, so it's more free form like, blobby like. Then to use a pantyhose over top. I'm teaching an Art Fundamentals for 3rd-4th graders with our co-op. So…maybe they can pull it off! I like the burlap look!




Kacky, the pantyhose over wire project is on our to-do list.




This is so cool, I really liked how they all turned out! You are so much braver and more adventurous with your art than I am. My kids would probably love this, but I'm nervous about the whole wallpaper paste thing with my youngest, it would surely be a disaster so I appreciate the age disclaimer here We've been doing lots of watercolor projects lately inspired by some coral reef and tropical fish/sea life stuff that we're learning. Hope to blog it soon, and thanks for sharing your works here, they are cool!!




on 07 Oct 2012 at 10:00 am

4

Jennifer

love them!




on 07 Oct 2012 at 4:30 pm

5

Kat

These are wonderful! And thank you for turning me on to the Dick Blick site!




What a fun project, and GREAT photos! Also, thanks for sharing the directions!

Also, I wanted to add that I'm creating a blogroll of blogs that blog (at least occasionally) about homeschooling high school. (http://letshomeschoolhighschool.com/homeschool-high-school-blogs/) I came across yours today and would LOVE to add it. If you would consider this, could you email me? katie@letshomeschoolhighschool.com. Thanks in advance! Blessings…

Katie




Marianna and I built a figure like this in my Art Methods class in college. The professor used to let me bring her since we were supposed to be learning to teach art to kids and she would make a great guinea pig. Anyway, I think I remember using masking tape covered by colored tape to speed the process and keep it kid friendly and speedily accomplished. They turned out superb! We even added enough details that it looked exactly like her favorite day care teacher at the school and we gave it to her when I got it back from the prof. Ours was balanced to be turning a cartwheel because her teacher could do that and that was amaaaazing!