I am the hostess, once again for this month's High School Homeschool Blog Carnival. The theme for this month is "Day in the life" or "typical day" of a homeschooled high-schooler.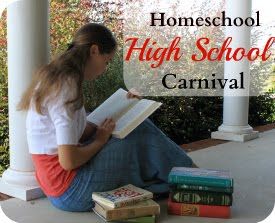 I find this a little ironic considering that I am graduating my high-schooler this month and his typical day looks a lot less like Shakespeare and statistics and a lot more like job applications and auto repair. Yes, "senioritis" is alive and well in the homeschool high school! Add to that a pretty intense spring fever (will it EVER come???) and  you might as well throw in the towel as far as getting anything academic done!LOL!


my slacker graduate

I have a sneaking suspicion that this may be the case for a lot of high-schoolers right now as entries for this carnival have been few and far between!
Luckily for us, a brave few are still plugging along and have offered up lovely descriptions of how high school plays out in their homes with their young ladies and gentlemen. Enjoy!
First up, the ever-inspiring Willa at Take Up and Read shares how her high schoolers' homeschool day breaks down and how they use their time.
Next, Mary at Winecup Christian Academy shares  recap of her son's week full of diverse studies. I want to know where she found a fabulous Russian course for her son as my Sam has been wanting to learn Russian for a while now.
And then there is Erin at Seven Little Australians , who is definitely NOT suffering from spring fever because it is autumn in Australia. Erin shares a 'typical' day in the life of her teens, and adds, " But is it really a standard day?  In one sense it is as it reflects the ebbs and flows of our life"
Finally, meet Nancy of Family on Bikes, who (after taking a world-record breaking three year bike ride with her husband and twin boys from Alaska to Argentina!!!), has collaborated with her boys to assemble a unique combination of school and activities to meet their educational needs and feed their passions. As Nancy says, "Consider all options!"
And that's it! Short and sweet! Just enough to get your wheels turning and perhaps inspire a few ideas for next year.
If your high-schooler is resisting the siren song of spring and you have any relevant blog posts you'd like to share, please link in the comments!
7 Responses to "Blog Carnival: day in the life of a homeschooled high schooler"
Excellent! I always love reading about what homeschoolers do for high school. It wasn't all that long ago that I was baffled about that aspect and had no clue what to do. Now I love what my sons are learning!

Thanks for including my post.




Well, you know we're pretty much senioritis all the time here–without any seniors! Still, I have been adding more high school stuff since January because that was when our oldest son came back home from his public school stint. I have a really hard time attempting any kind of typical day post for him.

Last week, he spent a few days working with a friend's father (his "job") during what should be "school hours." Let's call it work-study, then! He did some banking on his own. He has been spending considerable time playing ToonTown on the computer, working out, texting friends, and honing his baseball skills by doing research online, and hitting off the tee in the basement. He had games every evening last week with a break on Friday. On his more academic days, he focuses on reading the Constitution (or *about* it) and reviewing Geometry, but that's about it. :\




Theresa
Can't believe your 'boy' is now graduating!! Time has flown!! and your life is about to change dramatically!!




Oh!!! I meant to write something for this month, I really really did … If I get to it in the next couple of days, can I post the link here?




There! I have posted it:

http://fillwithtears.blogspot.com/2013/05/teenlife.html

Thanks so much for hosting this month! I always enjoy reading through everyone's posts.




Glad you were able to link up with us, Ellie!




I think *I* have senioritis, after 2 decades hsing, Theresa, so I can empathize with your son . Thanks for hosting the carnival.