I am designing a really fun earth science course for JBug using the excellent book A Really Short History of Nearly Everything, by Bill Bryson.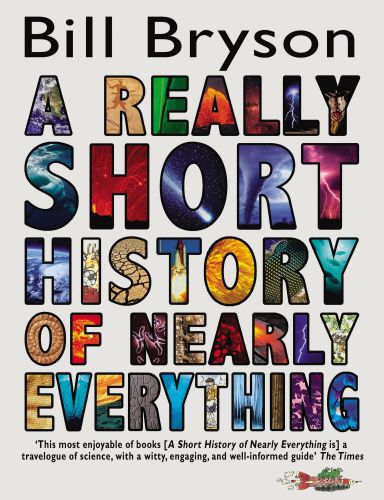 This is the simplified, juvenile version of his even more excellent and more detailed book A Short History of Nearly Everything. And I actually am only using the first hundred pages or so for this course. The last 50-odd pages are the genetics and evolution sections which I want to save and use as part of a life science class at a later time.
JBug will be in 6th grade this year, but I think this course could easily be adapted for several grades younger or older.
Anyway, I couldn't get it to look right on my blog, so here are links to  the planning chart I am working with, and what I have so far. I have it sketched out for a semester course, but keep in mind that knowing us and how we like to run off on rabbit trails it will in all likelihood take us a full year to complete. So those "Week" designations could easily be seen as 2 week periods instead. In fact, just count on that.
Earth Science Planning Chart PDF version
Earth Science Planning Chart Word version
(let me know if these don't work, okay?)
There are a ton of activities listed here, and lots of ideas for notebooking pages. We will probably not do them all, but I like to leave room for choice and chance to step in so I tend to over-plan so we can pick and choose later. Plus, we just tend to play fast and loose with anything that looks like structure, so…
This is an intensely hands-on course filled with opportunities to create and explore or, as Ms Frizzle would say, "take chances, make mistakes, get messy." The highlights are building and launching model rockets, and digging into a simulated archeo/paleo dig site !!!(which is a long-term project where she will unearth a whole lot of cool artifacts just like a real archeologist/paleontologist), plus lots and lots of smaller but no-less-fun hands-on activities. We will also be making use of our rock tumbler and our very fine rock and mineral collection throughout the course.
I have also kept the first few sections lighter knowing that we will also be finding our feet in other subject areas and will want to ease into things slowly, plus there is the very real likelihood of another start-of-school-year move for us (more on that later). So, starting off a little slowly, but gaining momentum fairly rapidly.
I would be glad to post details on any of the activities if anyone wants that (like how to make a hypsometer or spectroscope, where to find fossils to bury in your sim dig, etc). I will definitely be posting on the simulated dig site soon because I think it is something many kids could really dig (<–  see what I did there?) and I'd love to help more parents set one up in their own homeschools. (Or you could just Google simulated archeology dig and see what comes up.) In fact, I will likely just go ahead and do a series of posts explaining various activities if there is interest. Let me know.
7 Responses to "Totally Rockin' Earth Science for JBug"
Wow, I was trying to figure out what to do with my rising 7th grader next year. I was just going to use a Seton text, which would be quick and I could say she'd done some science, but it feels like a cop out that won't last very long. . . we'd just wind up forgetting about it and letting it slip. My girl isn't very into science per se, but she loves hands on stuff. And she is very social. I was just sort of brainstorming in my head and I thought what if we followed along and then somehow she and JBug exchanged emails and posted pictures and stuff on our blogs of what they were doing? We did a bit of geology just this past year with our co-op. For instance we did the mentos + diet coke thing with our group. However, that is such a cool activity that it bears repeating! And she could do it for her dad, to show him. We went on a fun field trip to a local nature center where we learned about local geology, but it was a lot to take in and I kept thinking about expanding on it further, like going to see caverns or visiting a rock quarry. And I just read recently that there are several places within driving distance here (for a weekend) where you can go fossil hunting. My dh used to be into model rockets. In fact he took the older kids to see launchings and they launched some of their own, but he hasn't done anything like that with our youngest.

Anyway, would you help me teach my dd science? I would love to tag along, and it would be great for my dd if some fun social time with another girl was introduced, like a penpal/email pal. I feel like I should recompense you somehow though. . . anyway, I'm just brainstorming. The whole thing sounds wonderful to me!




on 23 Jun 2013 at 10:08 am

2

carrieH

Yes, more info would be much appreciated! We are entering our 3rd year of homeschooling, and I am just now feeling that we are finding our "groove" with all of our subjects. So far, our science curriculum has been a bit too hit and miss. I like cobbling together our own study, activities and experiments, but want to be a bit more intentional about what we do this year. I just recently found your site and am enjoying all of your thoughts and ideas. Thanks for sharing.




[...] Totally Rockin' Earth Science Course for JBug. [...]




Faith, you know I'd be glad to help you any way I can! I plan on posting more details soon, so yeah you could easily follow along or make up your own schedule. I also like the idea of our girls sharing what they've done. We should chat about that. You are lucky to have some neat geological sites nearby. Wouldn't a trip to Mammoth Caves be an awesome year-end celebratory field trip? As far as the Mentos and diet coke thing, you could easily bump it up a notch this year by making into a real experiment with different variables and such. Lots of possibilities there.




[...] Totally Rockin' Earth Science Course for JBug. [...]




on 16 Aug 2013 at 6:34 am

6

Marzena B

Absolutely fantastic! I love it – you did such great work – I am going to use it with my 6th and 8th grader. I wouldn't even look at that book as I had no idea it exists Thank you!!! and I hope to see some more posts about it – it would be greatly appreciated




Thanks, I'm glad you like it! There are a couple of follow-up posts explaining some of the details that I hope you find helpful.