I have a few requests for a blog post on our art plans this year, so I am very happy to share them with you.
I have chosen what I think is a fun list of artists to study this year — I tried to get a good variety in there, from old masters to modern, to keep things fresh.  Here is the list of artists (in no particular order yet), with the plan being to cover one artist per month (or so), the exceptions being those marked with an asterisk (mostly folk artists), which will likely only take up a week's time. I'll also throw in a random project here and there just for kicks.
Louise Nevelson
Marc Chagall
Pablo Picasso
Alexander Calder
August Rodin
F. Hundertwasser
Rene Magritte
Alberto Giacometti
Vincent Van Gogh
Leonardo DaVinci
Folk Art
Jean Debuffet*
Jerome Couelle*
Alexandro Farto*
Lisa Kokin*
Slinkachu*
Huichol Nierikas* (not an artist, a style of Mexican folk art)
You may note a distinct lack of French impressionists. This is because we have pretty much done them to death in past years and this year I really wanted to expand JBug's art horizons a bit with some more abstract art, some folk art, and some more obscure pieces from artists we've covered before.
I will try to come back and post links to projects for each artist, but some of them are projects I've made up myself, so in that case I will try to do a blog post about it (and link to that) in case anyone else wants to do them as well. In the mean time, many of the projects can be found on my Pinterest board.
But since JBug has already completed her first project, I'll go ahead and share here.
This project was inspired by the assemblage art of Louise Nevelson, a Russian-born American sculptor known for her large, monochromatic wooden pieces, which were often composed of found objects.
We read about Nevelson and looked at some of her work to gain inspiration, and JBug had a great time gathering odds and ends to add to her piece. She also made a couple of pieces (including a face) out of Crayola Model Magic air-dry clay.
Once gathered, sorted, and arranged in a pleasing manner on a piece of scrap plywood, the pieces were carefully glued down using Gorilla wood glue and allowed to dry overnight.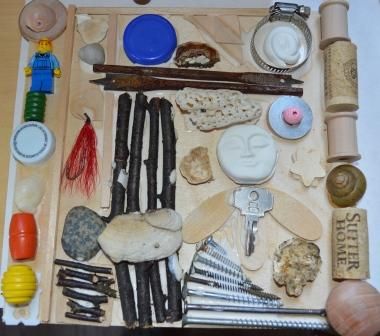 The next day a coat of flat white spray paint was sprayed evenly over all, allowed to dry overnight, and then a second coat was added.
And this is the final result–a monochromatic assemblage piece.   JBug  very much enjoyed the whole process and she said she can see why Louise Nevelson like this kind of art. It's great fun!
Our next two projects will also be assemblage pieces. One will be inspired by Nevelson's stacked boxes wall art, and the other can be found here: Dick Blick Art Projects: Rhythm in Layers
And that is all I have for now. Check back later for more!
2 Responses to "Art plans and assemblage project"
Awesome! I don't really know this artist…..but it will be fun to share this with Malachy. Hopefully I can find some "follow-through" in me…..

Thanks for posting!!




on 14 Aug 2013 at 2:48 pm

2

Tina

This turned out really awesome! I especially like the way the Lego guys arms are positioned in the final product, it looks like he's cheering! Love it! Great job JBug!