This is JBug's second assemblage project.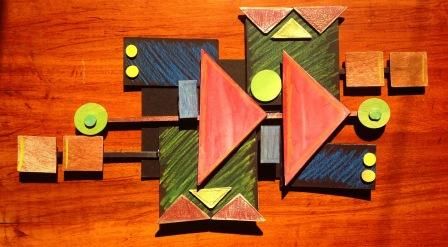 It is based on a lesson plan from Dick Blick called "Rhythm in Layers" and though it was similar to her last assemblage project, it had enough variation going for it–the use of color and the ideas of rhythm and layering– to keep JBug interested. JBug worked quickly and efficiently through the project and finished it in 2 days.
The first day was mostly about arranging a pleasing composition–using neutral colored pieces to help focus on that element. Here is her work in progress after deciding on her composition:
Then she decided on a color scheme and colored the pieces with a combination of markers, colored pencils, ink, and water colors. The next day she reassembled and glued it all together. Altogether a pleasing process, resulting in a nice piece of wall-worthy artwork.
I have to admit JBug got a bit angry at me at one point for "fiddling with" her art. She doesn't care for my interference–in fact, cares for it less and less as she gets older and gains confidence in her own abilities. Though in my defense if I hadn't been "fiddling with" her art she would have accidentally glued her piece to the table. Twice. Ahem. Still, I have to remember to keep my hands off and back off more and more, letting her fly on her own as much as she is capable. Isn't that always the way, though? It's a tough life lesson for me especially this week as I prepare to send Superboy off to college this weekend. Oh, how the time flies.
Anyway, her next scheduled project is another Louise Nevelson inspired piece, stacked boxes. Though I am thinking there's a chance JBug has had her fill of assemblage at this point and ready to move on to something different. We will see.
One Response to "Assemblage project 2: Rhythm in Layers"
Nice!