I am doing something new this year, which is making a bulletin board for our monthly themes. (Now don't hate. I have only one child to educate now, so I need to keep myself busy somehow.LOL!)
It's a small board, nothing elaborate, just enough to serve my purpose, which is to display our monthly artist, literary element, and grammar topic.
Today marks a new month, so it was time to change out the board (which reminded me I hadn't yet shared on my blog).
This month's artist is Marc Chagall (last month was Louise Nevelson):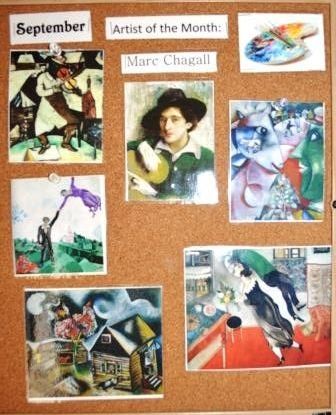 Our literary element is "characterization" (last month was "setting").  The photo is my little play-on-words. We call him our "literary elephant".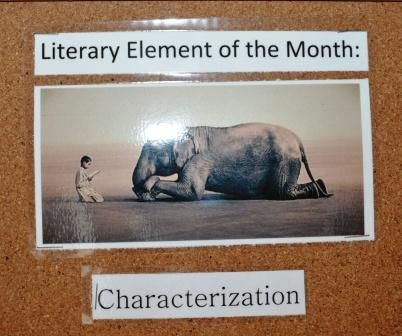 And our grammar focus is verbs this month (last month was nouns):
I actually have the monthly literary elements and grammar topics planned out for the entire year. The artists have been chosen, too, I just have not yet ordered them by month. Going to play that one by ear.
It's  not my usual style, but I am finding it a simple way to keep myself accountable. Seeing as it is right there in front of my face, it's a little harder to just forget about it. Plus it gives me a chance to use my laminator and express my "inner public-school teacher" LOL!
How about you? Doing anything new to keep yourself on track this year?
3 Responses to "New month, new board"
I love Chagall!

I too am only homeschooling one. But I seemed to have filled my time by volunteering at our co-op, teaching RE and helping lead our AHG Pioneers troop. This is so I still have an excuse for a messy house! LOL.




I love this idea and am going to implement it at our home but instead I'll show case the current continent and countries we are learning about this year with ECC from My Father's World. Thanks for the idea! Enjoy your year.




[...] that reach across subjects– history, math, teaching strategies as simple and elegant as bulletin boards (the real kinds with pins and paper), and outlining the thinking for activities for the coming [...]