Ah. We are finally settled in to our new home and have jumped back into schooling.  Thought I'd share our latest.
This is what I call a box of wonders, though JBug corrected me and said "No, Mom, it is a box of history."
Either way, it's pretty simple, really, just a wooden cigar box filled with things we have collected over the years, through our own explorations, bought from souvenir shops here and there, or received as gifts from generous relatives. There are fossil and recent shark teeth collected from beaches from Florida to NC, a fossil leaf I stumbled across while camping in Hope, Alaska. There's also a few mineral samples including a gold nugget and some ulexite (aka TV rock), an ammonite and a trilobite fossil, some petrified mammoth ivory and a walrus tooth. In the back are some plastic fossil casts. Just random cool stuff.
I handed it to JBug this morning and she practically squealed with excitement. She couldn't wait to start exploring all of the goodies inside.Some she had seen before, others were new to her. All of them were "so cool."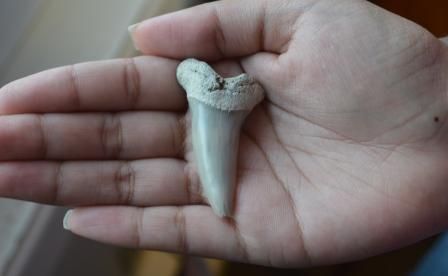 (This is a fossil shark tooth JBug found when we were visiting my brother in Beaufort, NC a few years ago.)
She decided the first thing she wanted to do was to identify all of the shark teeth. (We found a very useful website for that, btw.)
I helped her understand terms like "serrated" and "cusplets" when she asked, but otherwise just let her run with it.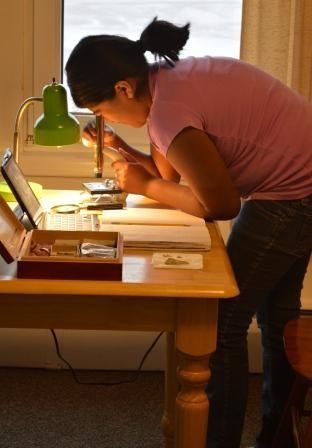 "Mom! I feel like a real scientist!" she squealed as she giddily made sketches and  noted details in her science notebook. (You can imagine how big my smile was when I heard that!)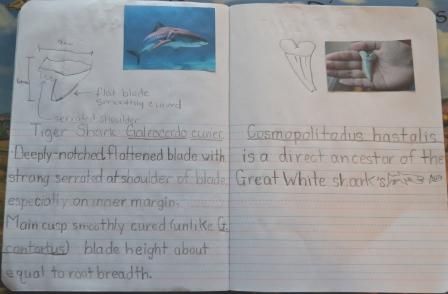 I kept my nose out of it (not easy, but vital), and she wrote down facts and things that she thought were important. No spell checking unless asked. Just a few tips suggested, as in underlining scientific names, measuring in metric, etc. to help her be more "scientific." She printed up some pictures and glued them in.
She also added them to her timeline of life, which is filling up, slowly but surely.
This occupied her from mid-morning until well into the afternoon. And there is still a whole boxful of wonders history to explore.  Plus, she doesn't know it yet, but I have a bunch of cool stuff still stashed away that I will be adding to the wonder box on random occasions. Including genuine dinosaur bone fragments(!!!!).
I see future giddiness for many days to come.
How about you? Think you could fill a wonderbox for your child (with shells, leaves, nuts, rocks, old bones, anything interesting your family has collected),point them to the guidebooks, then stand back and let them become "real scientists" for a time?  I guarantee it will be wonderful.
4 Responses to "A box of wonders"
Oh my JBug has grown so much! and yes we have a wonder box stashed away that I don't think my middles and littles have seen.




on 07 Oct 2013 at 9:41 pm

2

unita walburn

Love this. Going to start with the hobbits.




[...] am so pleased and delighted that the wonderbox is continuing to do exactly what I had hoped it would do. And then [...]




I love this idea! I'm absolutely going to try it out some time soon. Thanks.