Our artist this month is the fascinating Belgian Surrealist, Rene Magritte. Here is my unexpected conversation when I introduced him to JBug:
Me: "This month I thought we'd look at art by Rene Magritte."
JBug: "Oh, the guy with hat and the apple head."
I showed her this picture:

Me: "Is this who you mean?"
JBug: "Yes, that's him"
Me: "How did you know that?"
JBug: "Oh, he's in my Tin Tin comics."
Well, there you go. Score another win for reading comic books as a valid educational option.
Anyway, after reading about the real Rene Magritte and looking at his art, we have two projects planned for this month based on his works.
The first is inspired by this work (and others like it)

and imitates his use of silhouettes and patterns.
JBug will paint a background landscape, and then paint another piece of paper with a contrasting pattern, to fill her choice of animal silhouette to make her own version. Should be simple and straightforward, done in 2 days (day 1 for painting, dry overnight, day 2 for cutting and assembling). (I originally got the idea from here, but I decided to change it up quite a bit to allow JBug more choice in her work–choice of landscape, of pattern, of silhouette)
The second project is inspired by this work (and others like it):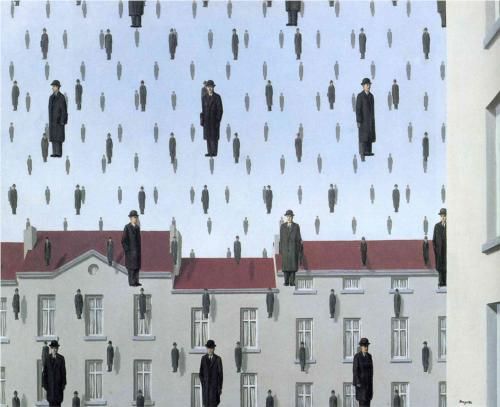 and will imitate Magritte's use of repetition and self(?)-portraiture.
My idea is to somehow get a photo of JBug and let her manipulate it in multiple sizes and orientations to form a pattern which she will superimpose onto her choice of architectural background. Not sure how we will manage it yet, but it will likely involve some digital manipulation and multiple layers of printing. We shall see. Should be fun and challenging.
If anyone else would like to try their hand at either of these projects, I would love to see the results, so please share!